ISTANBUL - where east meets west
A few days staying in this wonderful old city at one of the recently restored Ottoman houses (now private hotels) will enable you to visit some of the world's greatest museums and buildings. It is just a few minutes walk from some of these hotels to the Topkapi museum, once home to the Ottoman Sultans and housing a magnificent collection of jewels, artefacts and Chinese porcelain; the 5th century cathedral St Sophia; the Blue Mosque with its six minarets and blue Iznik tiles, the Byzantine cistern, numerous museums and, of course, the Grand Bazaar with its myriad streets of endless shops. Foodies will find a diverse and fantastic range of restaurants throughout the old and new city. Lastly and not to be missed is a trip up the Bosphorus on a ferry or private motor boat for a marvellous view of the Istanbul skyline.
You could combine a few days here with a gulet holiday, private boat charter or extend a tailor-made tour of other regions of this fascinating country.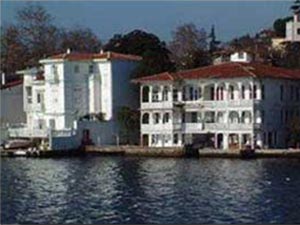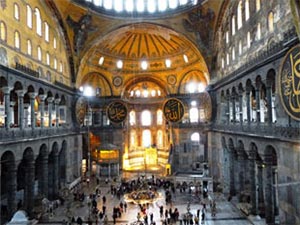 ISTANBUL SHORT BREAK - ANY DATES TO SUIT YOU
(Programme – Timetable Example)
Day 1

Arrival at Istanbul Attaturk airport. Private transfer to your hotel. Time to explore the area close to your hotel.

Day 2

0930 Full day walking tour of the Hippodrome, the Blue Mosque, Haghia Sophia and the Yerebatin Byzantine Cistern. After a lunch break, visit the Suleymaniye Mosque by minibus and then walk through the streets to the Egyptian Spice Market – time for a bit of shopping in this fascinating quarter. Excellent stalls for those nuts and treats.
Suggestion: Dinner at a fish restaurant in the Kumkapi fish quarter, great atmosphere with gypsy musicians playing at tables. (They also offer meat dishes.) Easy taxi ride from your hotel.

Day 3

0900 Tour of Topkapi Palace, the Treasury and Harem. (Half Day tour)
Afternoon free for shopping in the Grand Bazaar, a visit to the Archaeology and other Museums, or you might want to take a tram ride to view more of the city. Your guide can advise you on locations and other ideas.Jenny Day recommends the traditional Turkish dance night at the Hodja Pasha Culture Centre. Book tickets in advance.

Day 4

0900 Full day tour – option 1 Bosphorus by private boat – Asian shore
Depart hotel by private mini bus for a drive through the city, over the Bosphorus bridge to the Uskudar district on the Asian side to visit the Beylerbeyi Palace, the Summer palace of the Ottoman Sultans on the Bosphorus shore. Then on to the Kucuksu Pavilion, an ornate Ottoman Hunting Lodge used for entertaining. You then cross the second Bosphorus bridge to Sariyer and visit the private Sadberk Hanim Museum. After a lunch stop on the waterfront, you will board a private boat for a cruise down the Bosphorus passing by 19/20th Century wooden kiosks, mansions, and modern villas and the last palaces built by the Ottomans such as Dolmabahce, then drive back to your hotel.

Option 2 – Bosphorus by public ferry – Asian shore
0900 Proceed by minibus through the commercial part of the old city passing Ottoman monuments en route to the Egyptian spice market. Take the local ferry for an unforgettable excursion between the two continents of Europe and Asia, cruising past the last built Ottoman palaces such as Dolmabahce and Beylerbeyi, numerous 19/20th century mansions and beautiful wooden kiosks. You disembark at Sariyer, a fishing village close to the entrance into the Black Sea. After a lunch break, drive to the Church of Chora, a magnificent restored Byzantine building with fine 13th century mosaics and exceptional frescoes. Continue through the areas of Fener and Balat full of old wooden houses, churches and synagogues dating from the Byzantine and Ottoman periods, to the Suleymaniye mosque. Return to your hotel.

Day 5

Private transfer to Attaturk airport for your return flight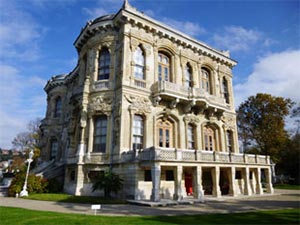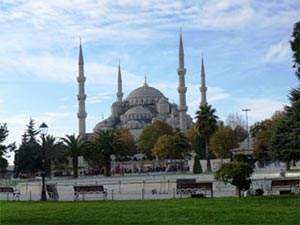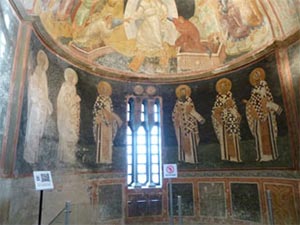 Flights are available from most European Cities to Istanbul Attaturk airport with Turkish Airlines, and from the UK you can fly from Birmingham, Manchester, Gatwick and London Heathrow.
HOTELS – there are numerous hotels to choose from in the old city, from restored Ottoman houses, (boutique) to 5* de-luxe hotels, plus a wide range of categories in the Taksim, Galata districts and along the Bosphorus shore.
FOR A QUOTATION and more ideas, email jennyday@daydreams-travel.com or click here to fill out our contact form.
A price will be calculated to include the guided tours, admissions to all museums and buildings, transport where required, service charges and Turkish VAT when the dates and number travelling are confirmed.
Please note meals, snacks and drinks are not included in our Istanbul prices, to allow flexibility on choice of food and restaurants. Some restaurant suggestions can be made by Jenny Day who knows the city well.
All tours are accompanied by an English speaking licensed guide.
---