THE DODECANESE – SOUTHERN ROUTE
THE DODECANESE ISLANDS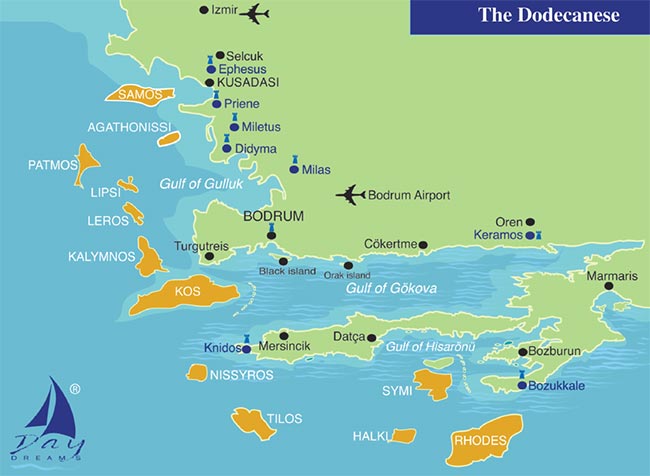 There are several lovely Greek islands between Kos and Rhodes, easily accessible from the Turkish port of Bodrum.  There are  many flights to Bodrum, which we recommend as the starting point for this route.  The islands of Kos, Nissyros, Tilos and Symi can be covered in 7 to 10 daysstarting and finishing at  Bodrum.
THE DODECANESE – southern route (between Kos and Rhodes)
Day 1
Board your boat at Bodrum – overnight at a quiet mooring away from the harbour.  If you can board your boat by lunchtime you would have enough time to deal with the port and immigration formalities, otherwise you would need to deal with this early next morning.
Day 2
After breakfast, complete immigration and port formalities to exit Turkey.  Go direct to Kos to enter Greece and deal with Greek immigration/port formalities. Overnight at Kos harbour with time to explore the historic sites and town, particularly Asklepieion, where it is believed Hippocrates founded the first medical school.  
Day 3
After breakfast, cruise to the volcanic island of Nissyros where you can first visit the small port/village of Mandraki and the hilltop monastery of Panayia Spiliani.  Late afternoon visit two pretty old villages by minibus, Emborios and Nikia.  There is a small, excellent museum at Nikia dealing with the formation of the island, the volcano and local flora and fauna.  This includes a fascinating visual presentation on how the volcaniic eruptions created the island.  This provides just the right detail before the drive down to the crater itself. There are spectacular views across to Tilos from Nikia.  Overnight in the small harbour.
Day 4/5 
Tilos – explore this fascinating island with a two night stay.  Drop anchor first off a deserted beach with views up to the old fort above the capital town of Megalo Horio.  Overnight here off Plaka beach.
Next morning cruise around to Livadia bay.  Livadia has a small harbour, pretty village with a few shops and tavernas and cafes along the beach front.  From here you could use transport from local agents for a drive up a dramatic coastal road to the tiny monastery of St. Panteleimonas, in a remote mountainside setting.  Marvellous views in all directions.  Then on to visit the small capital of Megalo Horio. There are wonderful old restored houses set into the hillside with narrow painted paths connecting the houses.  Ancient fortifications and an acropolis surround the mountain top, dating from the Byzantine period and reconstructed by the Knights of St. John.  Recent archaeological excavations have unearthed the remains of pre-historic pygmy elephants which were cut off here from the mainland 3-4500 years ago.  There is a small museum on these in Megalo Horio.
Day 6
Good cruise (winds permitting) across to Symi for 2 days exploring this beautiful island. Wild, rugged scenery, some bays almost fjord-like. First stop at Panomitis, a beautiful natural bay with an Italianate Monastery complex, museum and church.  Cruise around the rocky coast to explore dramatic scenic bays with towering cliffs and excellent swimming at Nanou and Thessalona.
Day 7
After breakfast move on to Pedi and later Symi town to explore ashore.  There are two villages which merge together – the capital Yialos and Chorio. We can put walkers ashore at the small village of Pedi in the bay behind as this is a good way to explore the entire area.  You can either walk up to the top of the hill which looks down into the harbour or take the local bus.  Apart from one main road, the entire area is made up of small pedestrian streets full of interesting, old Greek houses, small shops, a castle and museum.  The boat will be able to enter the harbour from 4pm onward. There are many restaurants here for a final night on shore.  Complete exit formalities here before returning to Turkey next morning.
Day 8
Direct cruise across to Datca where you re-enter Turkey and complete re-entry formalities. Overnight at Datca with time to explore this small town with its restaurants and local shops.  There is a sandy beach area for swimming close to the small harbour with a lake and sulphur springs behind the beach. After lunch move along the coast to the small hamlet of Hayit buku for ovrnight, or if winds are too strong move further along to Knidos.
Day 9
Return to Bodrum and ovrnight at a quiet bay outside the harbour.
Day 10  Move into the harbour early morning and transfer to Bodrum airport, or extend the holiday to two weeks to explore the Hisaranu Gulf finishing at Bodrum or Marmaris.  
For a 7 day itinerary you could start at Bodrum and go direct to Kos having completed immigration/port formalities.  You would need to return from Symi direct to Bodrum on the morning of day 7.   If you can spare 10 or 14 nights, you could explore the Turkish coastline all the way to Fethiye.  You can either leave the boat at Bodrum, Marmaris or Kos.             
Please note that the port and immigration charges related to exiting Turkey, entry to Greece, Greek tax, all Greek agents fees and harbour fees are not included in our prices.  These Euro charges are passed on to those passengers travelling on board as applied.   Other additional costs such as transport for any tours on each island would be shared between those participating.   A maximum of 15 people is allowed on each foreign flag boat in Greek waters to include the crew.
---