GULET CABIN BOOKINGS - CEVRI HASAN V
For Single Travellers, Couples and Friends

Jenny Day has been bringing together individuals and couples into small group holidays in Turkey for over 34 years. Many of these holidays have been led by her. Over the years, a loyal following of DayDreamers has joined her in exploring new locations, excavations and land excursions.
Jenny is no longer able to travel on all these boat parties and tours, but under Captain Taner of Cevri Hasan V, the same philosophy applies. We bring together small groups of like-minded people to achieve a good social mix, mostly ages from 50 upwards. This approach is a critical factor in the success of these holidays. You can expect to enjoy the close attention to detail which is a hallmark of our company.
At the time of booking we will ask for some information from those participating in these holidays, as we like to achieve a group of individuals with similar interests and ages. Along with your name, age and contact details we might ask about your profession and/or interests. We do not pass this information on to third parties; it is for our internal use only. We might also ask for information on your fitness to travel if it is appropriate to the holiday.
2021 - Dates and Itineraries
Our Greek Islands Odyssey following a route to the Small Cyclades surrounding Amorgos has been cancelled for another year. For other detailed itineraries please contact the office.
SEPTEMBER 15-25 10 nights/11 days Starting at Fethiye, visit archaeological sites, Caunus and Knidos, plus small villages en route to Bodrum.
SEPTEMBER 30-OCTOBER 10 10 nights/11 days Bodrum-Gokova and Hisaranu areas, exploring the best bits before returning to Bodrum.
Departure Dates 2021

2021 Prices £

Sole Occupancy supplement

 

 

 

 

 

 

September 15-25
10 nights/11 days
Fethiye-Bodrum

1695

+ 400 (when available)

September 30-October 10
10 nights/11 days
Bodrum-Gokova gulf-Bodrum

1500

+ 350 (when available)

NOTE THESE HOLIDAYS ARE NON SMOKING
How to book
Telephone the office on + 44 (0)1884 840786 or e-mail jennyday@daydreams-travel.com for the latest availability and details of each holiday. We will send you a booking form which should be returned to us together with a deposit of £350 per person. Confirmation of your booking will then be sent to you. The balance of the holiday will be due eight weeks prior to departure. The minimum number of people required to operate a gulet holiday is 8 and the maximum is 10. Additional transfers and any land arrangements will be quoted separately. A 50% deposit will be required on these 'extras' once confirmed. For full details of our general Terms and Conditions refer to our website, also available as a pdf document or hard copy from the office.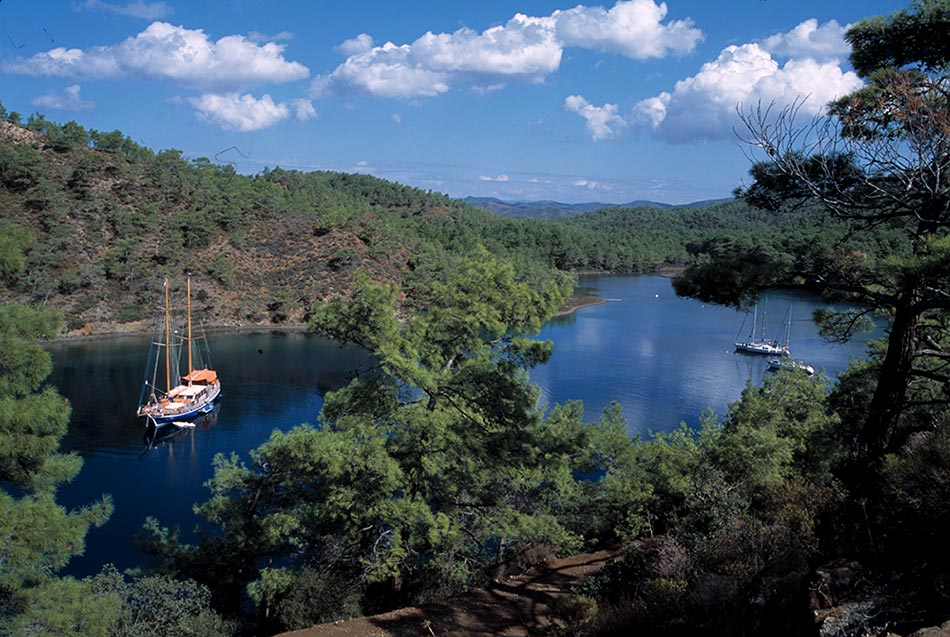 What's included on Cevri Hasan V Cruises
Prices are per person. Almost everything is included: boat rental, services of captain and crew, private transfers to and from the airport by air-conditioned minibus (main group only, additional transfers will be quoted at the time of booking) breakfast, lunch, dinner, bottled water, tea & Turkish coffee and a welcome drinks party.
What's not included on Cevri Hasan V Cruises
Drinks (the boat runs its own bar selling local drinks (raki, beer, soft drinks & wine). Adults may bring one bottle per person of duty free spirit on board. Gratuities to crew (once a week it is customary to give the crew a night off and passengers eat out at their own expense.) There are no single cabins, but if space allows, we will make a charge of £350/550 for sole occupancy of a double cabin.
** **Euro charges imposed by Greek port agents and authorities for itineraries in Greek waters are passed on as they arise and shared equally between passengers. This includes a new Greek Tax. Any shared transport costs for on shore visits will also be paid at the time.
Flights
Flights are not included in any of our prices. We will advise on appropriate flights to fit your itinerary. Those clients based in the UK can have their flights arranged through an IATA/ABTA agency, Diplomat Travel Ltd, who are fully bonded by the Civil Aviation Authority under Atol 1355. Details of scheduled and charter flights with airlines such as Easyjet, British Airways, Jet 2, who fly from regional UK airports, direct to Bodrum and Dalaman in Turkey will be advised at the time of booking.
Your financial protection
To protect you, the client, DayDreams Travel Ltd has established a separate Clients Account with Barclays Bank plc under the control of an independent accountant: Mr Robert Mugford FCCA of Bray Accountants, Tiverton, Devon, EX16 6PE. Monies received from clients for the sea and land-based elements of a holiday are held in the Clients Account until commencement of the holiday, except for the deposit required by a supplier to secure a boat charter.  In the unlikely event of our insolvency, all clients' monies due will be returned to them.
---