MARMARIS TO GOCEK/FETHIYE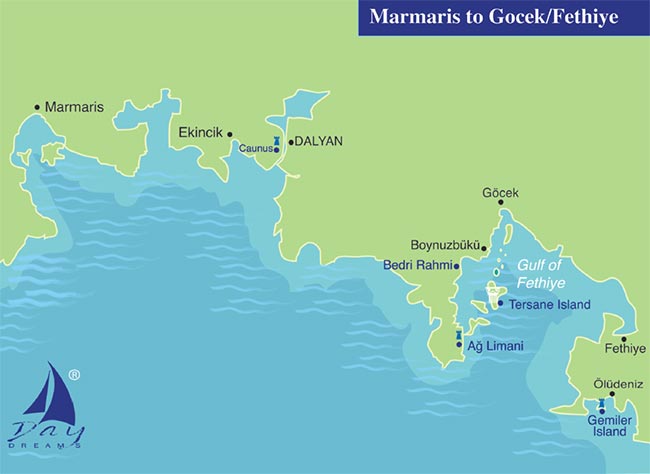 This is an ideal route for those people on a 7 days charter. Marmaris is now a large and busy resort with a large harbour, private marinas and a labyrinth of covered streets for shopping. Once you leave the harbour you will find yourselves in beautiful mountainous scenery very quickly.
The first stop travelling towards Fethiye is Ekincik. This can be a busy area due to the village cooperative which runs an excellent water taxi service to the wonderful Dalyan delta with its famous sandbar (a protected nesting area for loggerhead turtles). Once you reach the sandbar, your boat will follow a circuitous route through a vast expanse of reed beds to the ancient ruins of Caunus. This is an impressive site with a well excavated Roman bath complex, theatre, agora, Byzantine Church and many more recent excavations. But it is the Lycian Temple-tombs carved into the cliffs overlooking modern Dalyan which make this excursion worthwhile.
From Ekincik, your cruise will take you to the Fethiye Gulf and the numerous coves and bays where you can while away the remainder of your week, snorkelling, swimming and enjoying the many water sports available. From two locations it is possible to walk up a steep path to explore the ruins of Lydae. At Ruin Bay (known locally as Hamam) you will find ruins on the edge of the sea from the Roman period.
Gocek, is a smart village these days with several marinas and public harbour area – very popular with people chartering boats as it is only 40 minutes from Dalaman airport. There are many good local craft shops, restaurants and supermarkets for provisioning. You could choose to end your cruise here or just make a short visit and then move on to Fethiye.
Fethiye is well worth a visit, even if you don't end your cruise here. Known as Telmessus in ancient times, there is little of the old city except a number of rock tombs cut into the cliffs and the recently excavated theatre very close to the harbour. There is an excellent traditional market quarter for shopping with everything from pots and pans, fruit and vegetables to fabrics, towels and spices. Closer to the harbour is the modern centre full of jewellery shops, restaurants and souvenir shops (for details of Lycian sites you can visit from Fethiye – click on the Lycian coastal route).
From Fethiye, you might also want to consider a day on land visiting the wonderful Lycian city of Pinara with its hundreds of rock tombs in the rock face of a high mountain. This is about an hour's drive from Fethiye in the mountainous region of ancient Lycia. From Pinara you can drive across to the Saklikent gorge and walk up the spectacular canyon created by centuries of springs and rivers. Evidence has been found, that prehistoric man sheltered in caves here. Wading through the icy waters guarantees a refreshing diversion from the heat. On the way back to Fethiye, a stop off at another Lycian city, Tlos is recommended as recent excavations have cleared large interesting areas. There are marvellous views from the Roman bath complex down through the Xantos valley to the ancient capital. (For more information on Lycia click here for the Lycian Coastline.)
This itinerary can also be followed in reverse – Fethiye to Marmaris.
---