Turkish Gulets & Schooners
DayDreams sources its collection of beautiful wood built gulets and schooners from Bodrum in south west Turkey, one of the most important Turkish towns with a tradition of boat building. (Bodrum was also the birthplace of Herodotus and the site of one of the seven wonders of the ancient world - the tomb of King Mausolus.)
The boats are built in a mixture of woods (pine, teak and mahogany) in a variety of sizes and standards, retaining many of the traditional features from the past, but always incorporating essential modern facilities and comfortable deck areas. They are all maintained to a very high standard and many include all the latest watersports 'toys' and equipment.
View 13 standard gulets and schooners
View 15 luxury gulets and schooners
View 11  suberb deluxe gulets and schooners
Contact us for the latest availability on the boat of your choice.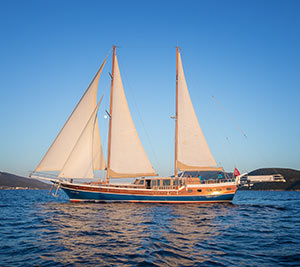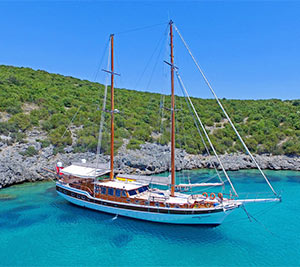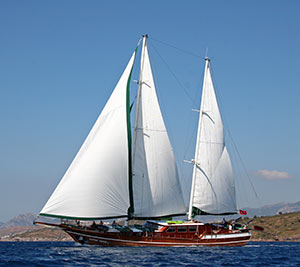 Gulets galore ! A week or two aboard one of these romantic vessels really is living a dream. Waited on hand and foot, it is the perfect holiday for any group of people, whether a small family on a limited budget, or a larger group wanting to sail or cruise in style. Ideal for special anniversary or birthday celebrations we can organise a variety of 'extras' to ensure a wonderful holiday to remember. Most boats have spacious cabins, with en-suite shower rooms including flush toilets and an air conditioning system. All our boats are fitted with the obligatory AIS central tracking system.
The Cevri Hasans, are operated by DayDreams as part of our fleet of 39 gulets.  Each boat is supplied with a variety of water sports equipment. A professional, but relaxed informal atmosphere prevails with a captain and crew to run the boat and cater to your needs.  They are all available for private charters from May through to late October.  (There are also a few which can be made available in April.)

Prices, Provisioning and How to Book
Boat rentals start at 4280 GBpounds per week for a small standard boat in May, rising to 40,000 GBpounds for a super deluxe gulet in August. Cevri Hasan IV starts at 4800 GBpounds in April, rising to 13000 GBpounds in August.  Special terms for early bookers.
Coastal Itineraries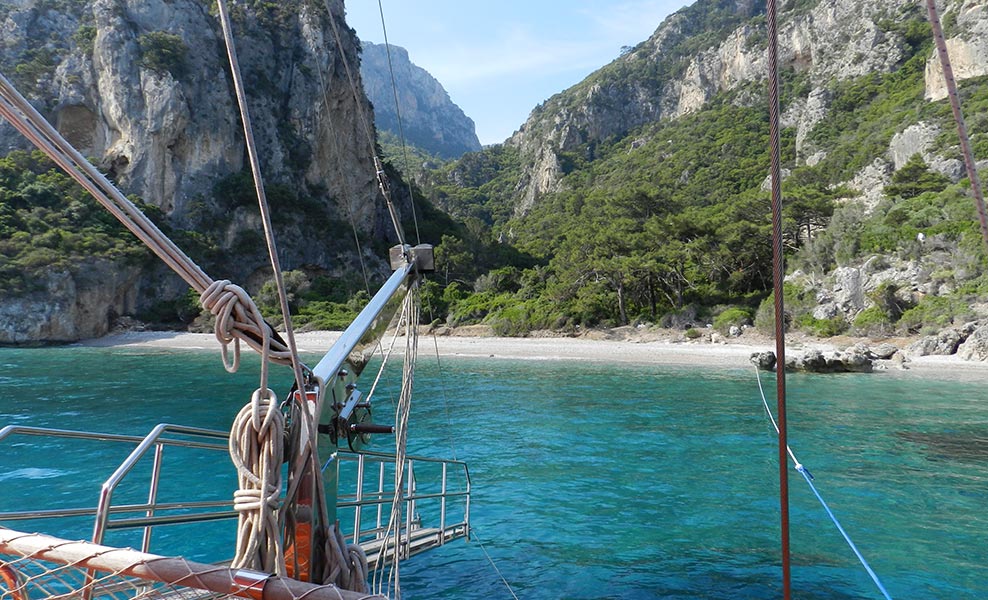 Your captain will steer a course to suit you. Jenny Day, owner of the company, has over 35 years experience travelling the coastline and can help plan your route in advance.  Please note that cruising in Greek waters on a Turkish flag boat does have a restriction on the total number on board which is 15 including captain and crew.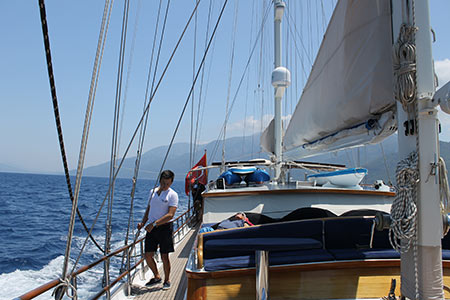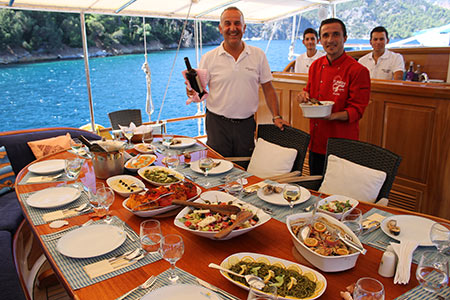 Delicious Turkish food is prepared by the cook or chef and all meals are eaten 'al fresco' on deck, except in early and late season, when you might prefer to use the comfortable saloon. We don't operate a boat bar system. We liaise with you over your drinks and stock the boat in advance of your arrival. You then pay at cost when you arrive on board. You can also book on a full board basis and pay in advance.
---