THE DODECANESE – NORTHERN ROUTE
THE DODECANESE ISLANDS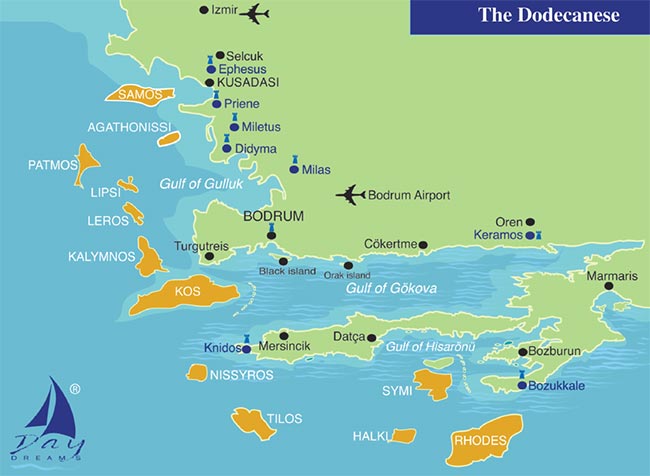 There are many Greek islands close to the Turkish coastline which are easily accessible by our Turkish flag boats. We have researched a number of different itineraries to explore these varied and lovely islands. We have listed places of interest as well as a suggested timetable for either 7, 10 or 14 days.  A maximum of 15 people including crew is allowed on Turkish flag boats when in Greek waters.
THE DODECANESE – northern route (between Kos and Samos) Starting at Bodrum
Day 1
Board your boat at Bodrum – overnight at a quiet mooring away from the harbour.  If you can board your boat by lunchtime you would have enough time to deal with the port and immigration formalities, otherwise you would need to deal with this early next morning.
Day 2
After breakfast, complete immigration formalities to exit Turkey. Go direct to KOS to enter Greece and deal with Greek immigration/port formalities.
Overnight at Kos harbour with time to explore the historic sites and town, particularly Asklepieion, where is it believed Hippocrates founded the first medical school. 
Day 3/4
Early morning start before breakfast for a deserted cove on the south side of Kalymnos, en route to LEROS and Vromolithos. This is a pretty spot with a beach and good views of the fishing village of Pandeli and the impressive crusader castle. You can easily walk round to Pandeli harbour from here and then up to Platonos, down the other side to Agia Marina where there are many interesting villas and shops and a small harbour. On shore at Vromolithos there is a taverna with live Greek music in the evening.
Day 5
After breakfast, you could make an island tour by bus with an excellent guide (about 3 hours and worth the time). Lots of small churches on remote rocky bits of the coastline. Visit the Crusader castle and Lakki and the WWII bunker/museum.
Day 6
Sail across to the small island of Lipsi with a good mooring for lunch and swimming. Overnight in Liedou harbour.
Day 7/8
Sail across to PATMOS and 2/3 days exploring this fascinating island, starting with the small village of Grikos. Lovely walk from Grikos along a a coastal path to a secluded beach.
Day 9
Skala harbour and town. Highly recommended is a visit to the Holy cave of the Apocalypse and the Monastery of St John and Museum at Chora. Walking around the narrow paths of Chora is fascinating, as is a visit to one of the oldest houses on the island. (We can organise a guided tour in advance which can be done from either Skala or Grikos.) Complete Greek exit formalities at Skala.
Day 10
Cruise direct to either Kusadasi or Bodrum to complete Turkish immigration formalities. 
Day 11
Transfer to Izmir or Bodrum airport
ALTERNATIVE NORTHERN ROUTE
Start at Kusadasi, (1 hour drive from Izmir airport) cross to Samos and the small town and port of Pythagorio, followed by Fourni, Lipsi, Patmos, Leros, then on to Kalymnos or Kos to exit Greece. Cross to Bodrum to re-enter Turkey. This can be combined with the last couple of days in the Bodrum area to make a longer two week holiday, either on your boat or a short stay on land.
THE DODECANESE (Samos to Kos)
Day 1
Fly to Izmir and transfer to your boat at Kusadasi marina
Day 2
Complete exit formalities from Turkey and cruise direct to Pythagorio on Samos to complete Greek immigration and port formalities. It is possible to disembark to explore Pythagorio once the local agent has received all passports etc. There are shops, cafes and a small monastery on the hills overlooking the town (a good walk for the energetic). Overnight here. You could also spend an extra day on Samos in order to make a full day land tour through the middle of the island.
Day 3
Cruise/sail on to a quiet bay on the small island of Fourni.   Good for swimming, snorkelling and overnight stop.
Day 4
Lipsi – first a quiet bay for swimming (there is a small taverna on shore) and overnight at the small harbour of Liedou which is surrounded by a village (the only one on the island).
Day 5
Patmos – morning cruise across to the village of Grikos. A lovely walk here along a coastal path to the old boat yard; from here you can walk across a narrow spit of land to the other side of the island. This is a wild, deserted area with a few tiny churches and a coastal path for the adventurous to one of the best beaches on the island.
Day 6
If there is one important tour to make on Patmos it has to be a visit to the wonderful old village of Chora and the Monastery of St John and the Cave Church dedicated to St. John. There is also a museum attached to the monastery. The old houses and tiny streets of Chora are well worth exploring including the oldest house which the owner/widow opens to occasional visitors. Later in the afternoon move on to a quiet bay in the Kambos area for the night, or stop over at Skala, which is worth visiting, if you want to do some shopping. An overnight stop will enable you to sample one of the local tavernas on the island.
Day 7
LEROS – cruise direct to the Pandeli area. Panoramic views of the large bay from the Castle which dominates this side of the island. You can easily get ashore here by dingy and wander through the cafes and villas. There is an excellent local agent with a bus who will take you on a tour of the island, its many small churches on isolated headlands and up to the castle. This is definitely worth doing, his knowledge of local history and the Italian influence from World War 2 makes for a fascinating 2 hours. He will even take you into the family's private museum housing artefacts and memorabilia from World War II, created by his father.  Overnight Vromolithos.
Day 8
Day to explore more of the island or relax on board. (The Paradisos Taverna is run by Stamitis, a professional bouzouki player, who provides live Greek music in the evening with a few drinks. From here you can walk through the winding streets full of old villas and small shops to Platanos at the top of the hill).
Day 9
Direct to Kalymnos or  Kos with a lunch stop at a quiet bay on Kalymnos en route. (This stop will depend on wind conditions)
Day 10
Complete exit formalities from Greece at either Kalymnos or Kos and return to Turkey at Bodrum to complete re-entry formalities to Turkey.
Day 11
Transfer to Bodrum airport for the return flight.
Please note that the Port and Immigration charges related to exiting Turkey, entry to Greece and all Greek agents fees, Greek tax and harbour charges are not included in our boat rentals. These charges will be passed on to the charterer in Euros as applied. On all Turkish flag boats the maximum number of people is 15 including crew.
For all itineraries starting and finishing in Turkey, you can either use Turkish Airlines daily scheduled flights from international locations with connecting flights to Izmir or Bodrum, as appropriate or use direct flights from the UK to Bodrum. 
Transfer Times:  Izmir – Kusadasi about 50 minutes, Turgutreis/Bodrum to Bodrum airport 45 minutes.
---