GUIDED WALKING/HIKING IN THE TAURUS MOUNTAINS
(7 NIGHTS/8DAYS example itinerary)
Day 1: Transfer from Dalaman airport to your hotel at Kas.
(Additional transfers on arrival and departure must be paid for separately.)
Overnight accommodation at the Nar Hotel, Kas
Day 2: Phellos-Çukurbag-Kas ( 8 km/5 miles ) 3.5 hours hiking
After a 20 minute drive, trekking starts near Pınarbaşı village, at the forest fire watchtower. We first visit Phellos, an ancient city of Lycia. Phellos was an important city in 4th century B.C. and Antiphellos (Kaş) was its port. As the sea trade grew, Antiphellos became the richer city. There's not much left from the city but it's necropolis is one of the most attractive of ancient Lycia. After exploring Phellos we'll continue our hike to Cukurbağ village where we will have lunch. The last part of the trail descends from Çukurbag to Kaş with sensational views of Kas Archipelago.
Overnight accommodation at the Nar Hotel, Kas.
Day 3: Kuruova Sütlegen ( 8 km/5 miles ) 4 hours hiking
After a drive of about 1 hour we'll arrive at Kuruova which is at 1500 m elevation. From here we start to hike on a beautiful trail, leading to Sütleğen village passing the Kıbrıs Stream and Canyon through a wooden bridge. The hills around the trail are covered with cedar and juniper trees. At Sütleğen village we'll have a chance to see fruit orchards, farming life and have a picnic lunch.
Overnight accommodation in Gömbe – Kahramanlar Hotel (dinner included)
Day 4: Uçarsu Yesilgöl Walk ( 6 km/4 miles ) 3 hours hiking
Gömbe is located in the central plateau of Kaş, which is famous for its apple orchards which we will visit. After a short drive you will see the Uçarsu (Flying Water) Waterfall, which originates from the summit of mount Akdağ. The Akdag mountain range reaches 3000 metres and we might see snow caps all around us at this level. After lunch we'll take a walk around Yeşilgöl (Green Lake) at 1600 meters above sea level. This is the one and only permanent alpine lake of the region. Drive to Akacenis and our overnight accommodation in Akaçeniş – 3 Angels Hotel dinner included.
Day 5: Tekke Village , Avlan Tour ( 9 km/6 miles ) 4 hours hiking
This morning, after a 20 minutes drive we'll first visit the Abdal Musa Shrine in Tekke village on the lower slopes of the Bey Mountains. Abdal Musa was a well-known 13th century Alevi sufi preacher. The shrine, a building with an Anatolian cone roof, stands on the edge of the village, Then we'll move to Avlan Lake close to Elmali and walk around the lake. Avlan lake was drained by the State Water Affairs Dept. between the years 1976-1980 in order to re-claim agricultural lands. When the lakes were dried up, humidity rates dramatically dropped, the climate turned continental and the productivity of agricultural products declined. Following this disaster, the people of Elmalı collected nearly 3.000 signatures enabling a restoration project to commence in 2001 and water started to be stored again in the Avlan Lake. The natural environment is still recovering, but we can already see the benefits to birdlife and livestock. After our walk we'll have a picnic lunch near the lake.
Overnight accommodation at Akca hotel, Elmali, dinner included.
Day 6: Free Day in Elmalı – Monday market day.
Elmali is an Ottoman town with a fascinating old quarter full of beautiful timber-framed konaks, some in good condition but many in need of restoration. There is a museum, a restored merchant's house (which can be visited) and an interesting mosque from the early 17th century. The name Elmali literally means 'apples' as the town is at the centre of a large fruit growing region, dominated by apples. It sits on an 1100 metre high plain and beneath the Elmali dagi (mountain) at 2296 metres.
Accommodation in Elmalı – Akça Hotel. Optional dinner can be arranged on the terrace of the hotel.
Day 7: Arycanda -Ördübek -Yazır ( 8.5 km/5 ¼ miles ) 4 hours hiking
Today we travel inland to visit Arycanda, a city renowned in Lycian times for its love of pleasure and merrymaking as well as its tendency to be in constant debt. Arycanda is the most impressive of the Lycian cities and its setting is one of the most outstanding in all of southern Turkey. After visiting the site we'll enjoy a delicious home-cooked lunch with a local family. After lunch we'll walk between Ördübek and Yazır plateaus following a beautiful trail. We will then continue our journey by minibus to Kas.
Overnight accommodation at the Nar hotel in Kaş.
Day 8: Return transfer to Dalaman airport.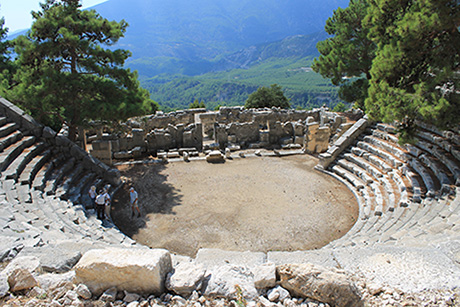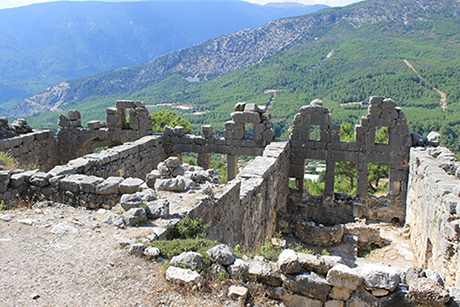 | | |
| --- | --- |
| PRICE: | subject to quotation and based on the number travelling. |
What the Price includes :
Welcome Drinks, 7 Nights Accommodation on bed and breakfast basis, 5 Lunches (On days ; 2,3,4,5 & 7), 3 Dinners (On days 3,4 & 5), 1 Litre Water (Per Person Per Day), Arycanda Historic Site Entrance Fee, Airport Transfers for the Group Flights, The services of an English speaking guide/tour leader
Not included :
Drinks with meals and any additional snacks/meals, Tips to the guide and driver, Flights.
WHAT TO BRING
Cagoule or waterproof jacket, Water bottle (2 litres), High factor sun protection cream, Sturdy trainers or light weight walking boots, Day pack (lightweight rucksack), Swimming costume, Head torch, Walking poles are also highly recommended.
Accommodation
In rural areas the hotel accommodation will be the best available, they all have atmosphere and character. Facilities vary but they are all clean and comfortable, with ensuite shower rooms, hairdryers and wifi. The Kahramanlar Hotel and the 3 Angels were built approximately 10 years ago and the Akca in Elmali was refurbished 3 year ago. In Kas we are using the Nar hotel, www.narrhotel.com A limited number of rooms have a sea view and these must be requested at the time of booking. A supplement will be made for these rooms.
Meals/special diets – vegetarians are easy to deal with for any other special diets please contact us.
Transport for daily transfers and airport transfers are by air conditioned minibus.
WEATHER CONDITIONS/TEMPERATURES are likely to be around 25C. There might be an occasional shower.
HEALTH-FIRST AID – our walk leader is trained in first aid and he will carry a first aid kit. We would advise participants to bring their usual first aid items with them.
---